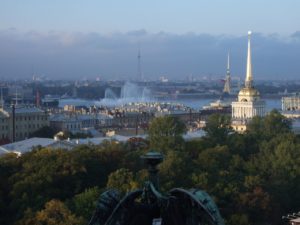 St. Petersburg has the makings of a great honeymoon destination. It may take weeks to really explore and take in all the interesting sites and sample everything it has to offer, but one thing is for certain, a honeymoon travel destination in St. Petersburg will truly give couples a memorable experience.
Start the honeymoon right by staying in the five-star Hotel Astoria with rooms looking out to the golden dome of St. Isaac's Cathedral. Places like the Hermitage and Opera House are mere steps away. This historic hotel was made even more famous because of its appearance in the classic Bond movie and where celebs like Madonna, The Doors, and the iconic Rolling Stones had dropped by.
Step out of your suite and descend the grand winding staircase for that postcard-worthy shot and hang out in the hotel lounge where you can enjoy a sampling of Vodka together with three kinds of caviar paired with blinis with all the fixings. Couples can indulge themselves with a real taste of Russian cuisine at the Astoria Restaurant.
After a hearty meal, take a stroll along canals lined with aristocratic mansions. The 342 bridges that come alive at night cross the canals at different points. This is why the city of St. Petersburg, built on some 100 islands, is known as the Venice of the North. This alone should make couples fall on love with this city.
Former imperial palaces turned museums housing artefacts offers a great treat of the nation's history. Another must-see attraction in St. Petersburg is the famous Church of Our Saviour of the Spilled Blood with its famous candy-coloured onion domes.
When strolls and site visits have become tiring, couples can take a sip of culture and take a trip to the ballet. "The Nutcracker" performed in one of Russia's oldest opera houses, the Mikhailovsky Theatre is surely a must-see play.